IEC Voltage General Purpose Fuses and Fusegear  UL/CSA Low Voltage General Purpose Fuses
 High Speed Fuses  DC Protection for Electric Vehicle Battery
Mersen is a global expert in electrical power and advanced materials. Mersen designs innovative solutions to address its clients specific needs to enable them to optimize their manufacturing process in sectors such as energy, transportation, electronics, chemical, pharmaceutical and process industries.
An innovative pioneer, Mersen's Ferraz Shawmut product line of fuse technology has provided state-of-the-art protection for over 129 years. Its many innovations include the widely known and respected Amp-Trap® current-limiting fuse, Amp-Trap 2000® time-delay fuses, Protistor® fuses semiconductor protection, Limitor® high voltage fuse-links, Tri-Onic® current-limiting, time-delay fuses, the ground-breaking SmartSpot® open-fuse indicator technology, and the new HelioProtection® solar power protection fuse line. Today, Ferraz Shawmut continues to be the most trusted fuse brand in electrical protection helping companies around the world improve electrical safety, performance, and reliability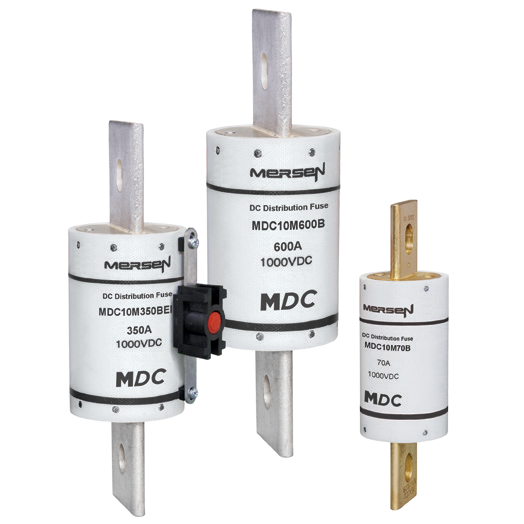 Introducing
The Mersen MDC Series DC Distribution Fuses
With the evolution of DC distribution and new technologies on the horizon, Mersen's MDC DC Distribution Fuses help customers achieve ultimate protection for today and tomorrow and let system integrators and OEM manufacturers easily select fuses for the protection of DC distribution in a variety of applications.
The MDC Series incorporates proven fuse technologies, providing optimal current limitation while achieving maximum performance. The MDC portfolio is designed to easily allow customers to choose fuses where coordination with other DC components is critical, eliminating unnecessary downtime.
Applications include but not limited to: DC cabling, DC bus, DC auxiliary circuits, electrical energy storage (EES), battery module protection, EV charging, critical power, and UPS protection.
MDC Series Catalog
Click on any link below to open a PDF information sheet, PDF drawing or product image. These documents are for reference only. To request the latest document revision or to request other documentation, please contact Sales